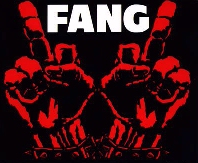 Poster for last months FANG show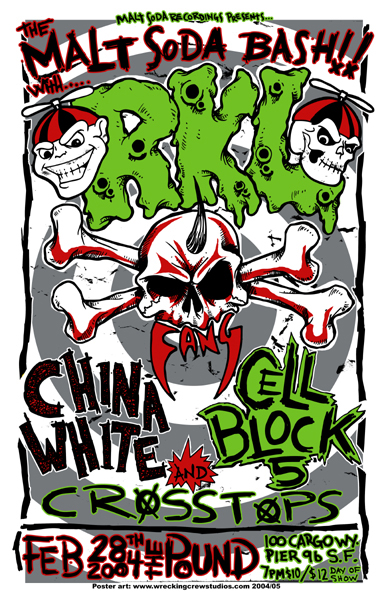 THIS SHOW WAS AWESOME!!!!
FANG @ The Pound SF 2/28/04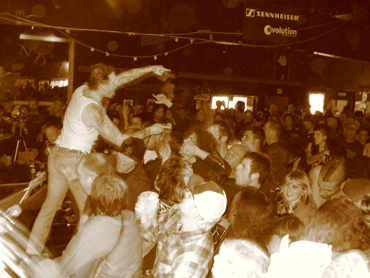 Photo by Tiger Lily





FANG & OPPRESSED LOGIC BUST YOUR SKULL TOUR 2004!!


Weds. April 28 @ Music Head, Medford, OR

Thurs. April 29 @ Sabalas, Portland, OR
W/ THE DWARVES, DEADBOLT, TATTOOED CORPSE

Fri. April 30 @ Anarchy Library, Downey, CA
W/ DR. KNOW, LOOGIE, JUSTIFIED ANGER

Sat. May 1 @ The Loft (Skate Park), Ventura, CA
W/ DR. KNOW, VENDETTA

Sun. May 2 @ The Guesthouse, Hemit, CA
W/ DR. KNOW, SICK SENSE

Mon. May 3 @ The Priceless Inn, Tempe, AZ
W/ NORTHSIDE KINGS, GLASS HEROES

Tues. May 4 @ The Rogue, Tempe, AZ
W/ THE RESISTOLEROS

Weds. May 5 @ Skrappys, Tucson, AZ

Thurs. May 6 @ T Lounge, El Paso, TX

Fri. May 7 @ Emos, Austin, TX
W/ VERBAL ABUSE, THE BULEMICS

Sat. May 8 @ Communion, San Antonio, TX
W/ VERBAL ABUSE, FILTHY & THE MUFF DIVERS, SCUM ALLEGENCE, THE MARKED

Sun. May 9 @ (Mary Jane's) Fat Cat's, Houston, TX
W/ VERBAL ABUSE, MERCURY LEGION, RACE AGAINST TIME

Mon. May 10 @ The Red Blood Club, Dallas, TX W/ VERBAL ABUSE, JIZ & THE JERKOFFS, DAMAGE CASE

Tues. May 11 @ Green Door, Oklahoma City, OK

Weds. May 12 @ The El Torreon, Kansas City, MO
W/ SWITCH HITTER

Thurs. May 13 @ Climax Lounge, Denver, CO

Fri. May 14 @ Club DV8, Salt Lake City, UT
W/ BRING IT DOWN

Sat. May 15 @ The Sattalite, Reno, NV
W/ GLUEHORSE, THE EMPERORS








Malt Soda will be re-releasing the classic 1980's LP's...A Mi Ga Sfafas and Spun Helga from FANG as well as the 1988, never released LP, Pissed Off Buddha all one CD! It will be out at the end of April.
Check out Malt Soda Recordings and Oppressed Logic's websites at the links below-
FANG'S DISCOGRAPHY:

LANDSHARK
LP
boner 1982

WHERE THE WILD THINGS ARE
EP
boner 1983

SPUN HELGA
LP
national trust 1985

A MI GA SFAFAS
LP
boner 1986

LANDSHARK/WILD THINGS
DOUBLE CD RE-RELEASE
boner 1997

AMERICAN NIGHTMARE
LP
wingnut 1998

HAIR OF THE DOG
7" vinyl
man's ruin 1998

FANG/OPPRESSED LOGIC
split 7" vinyl
beer city 1999

FANG/DR. KNOW/HELLIONS
split CD
hello records 2000

SPUN HELGA/A MI GA SFAFAS/PISSED OFF BUDAH
TRIPLE CD RE-RELEASE
Malt Soda Recordings 2004